We're going to share some simple DIY baby sensory games you should play with your infant or five-year-old. The games we will share with you are easy to construct with the resources and items available at home. The games will not only ensure the active participation of the baby but will also be good for the baby's brain. They are pertaining, so let's get started. 
DIY project 1:
Everything you'll need for this project is some DIY baby-safe kinetic sand, which you can easily create at home with some whole grain rice cereal, coconut oil, and food coloring. All you have to do is dump out your rice cereal, use 1 cup, and then apply three teaspoons of coconut oil and fold it all over until it's well-combined. Keep on kneading it till it feels cool. You can see how easily it molds together and crushes, so unlike kinetic sand, it's still safe for your baby to eat if they do end up ingesting some. Try to perform this activity outside, so it was much easier to clean up after.
DIY project 2:
This project excites your baby's sense of smell. You will need an empty plastic container with the lid or even use an old spice container. Poke some holes in the covering lid of the bottle. You should add something that smells amazing and then just let your kid have it. They can experiment, trying to taste of shaking it by doing so. You can observe that most young ones really didn't like the oranges initially, and then he kind of went with it.
DIY Project 3:
This project is a fuzzy pipe cleaner tub. All you need is some fluffy pipe cleaners and a colander. Then you roll the pipe cleaners' ends to make a stopper on either end and tuck in the sort of pointy section that can be stuck out, and then you fish it through the holes in the colander and top off the other end. Repeat with all the various colors that you have, and then give it to your kid. Not only is this perfect for sensory stimuli because it has a lot of different unique textures, but it's also great for learning object permanence. It's a good learning experience, and it keeps them occupied for a while. If you have other stuff to do and need to get dinner down there, your kid will keep themselves occupied with this one for some time.
DIY Project 4:
To make this, all you'll need is a pool noodle from the dollar store, which you can break into small little loops. Place your baby boats in the water and let your child play with them. You can make things much more fun by warming the water or freezing the boats. Water play is always a great occupier, and it's always a lot of fun, and it's great for your baby to splash around in it, gripping the floats trying to balance things on it. There's always plenty you can do with this even when your child gets older, so water play is always a great occupier, and it's great for your baby to splash around in it, squeezing the floats trying to balance things on them.
DIY Project 5:
Next up is sensory play with your young one. Get some foam sheets and use non-toxic glue to glue the foam sheets together to make the pages thicker. Then use a hot glue gun to glue the sensory products onto the pages. Finally, your baby will enjoy this book, and the reader will keep him occupied for quite some time.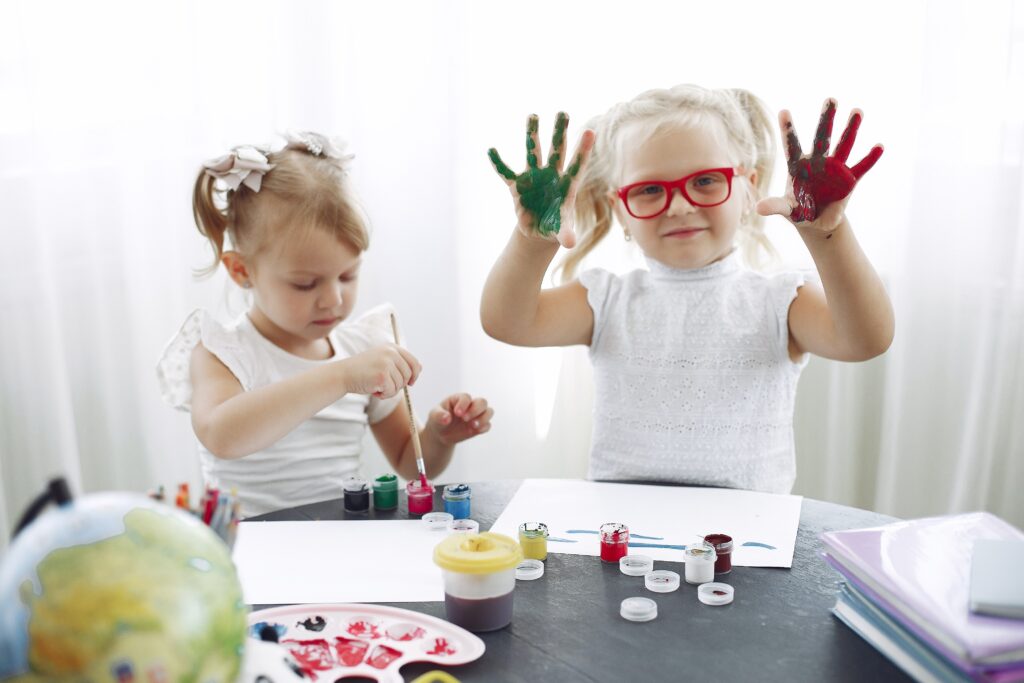 Unrestricted finger drawing:
All you have to do to make it is add those blobs of paint on a sheet of paper, slip the paper into a Ziploc bag, reinforce the sides with tape, and tape it down to a flat surface and let your kid have at it. It will keep the little one busy for a long time and provide us with a charming keepsake to display on our wall.
Making a DIY sensory bottle
for your baby to try is another fun and simple concept. You can do anything with just about everything, like a dollar store plastic tub or a water bottle. All you have to do is find one that looks good and paste it on one side. Add some glitter, some little toys, or something else that appeals to you. Make this squishy gel sensory bag for you and your baby. All you need is a gallon size Ziploc, bag and you'll want to seal the sides several times to make sure it's still holding together correctly. So you want to throw in whatever sensory items call to you inside the bag. Use some noodle and some fluffy pom poms that we had lying around, and then use about two bottles of hair gel from the dollar store to fill up the bag and submerge the piece, and then squeeze out some extra air and seal the bag well before applying more layers of tape.
Learn More About Babies